JIM CARREY BENDS OVER BACKWARDS TO STAR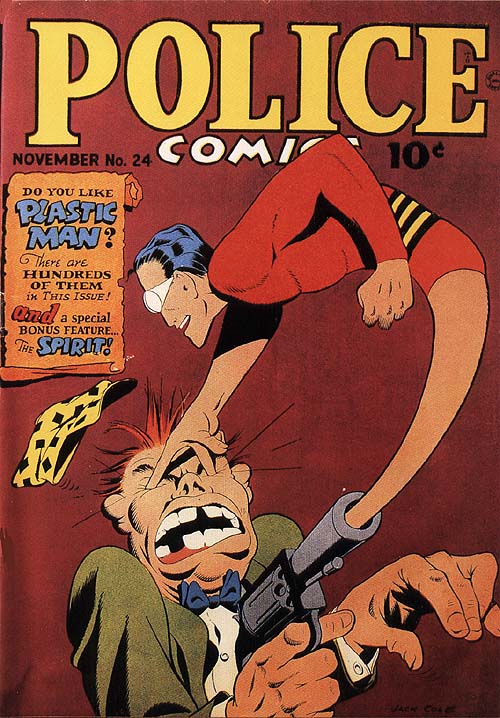 Steven Spielberg's Amblin Entertainment continues to develop a live action version of the original Mr. Fantastic.

Cartoonist Jack Cole's "Plastic Man" was created in 1941, appearing in 'Police Comics' #1.

Original premise revolved around 'Eel O'Brien', a career criminal who attempts to rob the Crawford Chemical Works, but is shot by a security guard and falls into a vat of chemicals. Abandoned by the rest of his gang, Eel drags himself out of the factory and flees to the 'Resthaven' monastic mountain retreat.

The chemicals that seeped into Eel's bullet wound provide him with the ability to stretch any and all parts of his body, disguise his appearance, compress to paper-thinness or shapeshift to mimic other objects. Plas vows to atone for his surly past by becoming a crimefighter.

When original publishers Quality Comics went out of business in 1956, DC Comics bought all the characters, including Plastic Man. Since then, he's had a few comic book series, ongoing appearances in 'Adventure Comics' and a prominent role in DC's 'Justice League of America'. In 1979 Ruby-Spears produced a series of cartoons starring the character. Plastic Man also experienced a revival in the 1990s, with the release of a Plastic Man 'Archives' book and a profile in The New Yorker magazine by 'Maus' creator Art Spiegelman.

Creator Jack Cole, who left Plas in 1950 to draw for 'True Crime Comics', also found work as a cartoonist for 'Playboy' magazine (home to Vargas). Mystery still surrounds the death of Cole, who died August 15, 1958.