THE 1967 TORONTO-PRODUCED ANIMATED SERIES "SPIDER-MAN", CURRENTLY IN WIDE BROADCAST SYNDICATION, IS BEING 'RENOVATED' FOR A FRESH TV AUDIENCE.

WILL THE NEW PRODUCERS KEEP THE ORIGINAL CANADIAN ACTORS' VOICES ?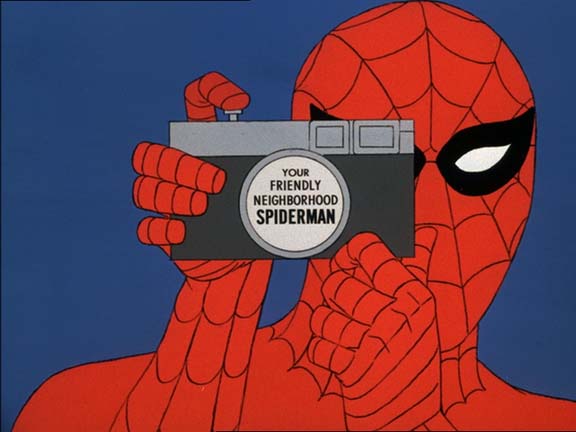 Supervised by Buena Vista International Television, all 52 half-hours of the classic 3-season series will be re-mastered to a high definition format from the original 35mm film negatives.

The soundtrack, including the classic title song and jazzy incidental music will also be redone with a new music/effects track.

According to Tom Toumazis, Senior Vice President of BVI-TV, Europe, Middle East & Africa : " ... by using today's technology, we can both halt the severe deterioration of the original film and improve upon its sound and visual effects, while maintaining the series' classic retro look and witty storylines."

Originally produced by Robert L. Lawrence/Ray Patterson of Toronto's Grantray-Lawrence and by animator Ralph "Cool World" Bakshi for Krantz Films, "SPIDER-MAN" the cartoon series debuted September 9, 1967 on ABC, featuring the voice talents of Canadian actors Bernard "Bunny" Cowan, Peg Dixon, Paul Kligman, Paul Soles, Len Carlson, Gillie Fenwick and Chris Wiggins. Original music by Ray Ellis and Bob Harris.

With stories and art based on the early issues of Marvel's Stan Lee/Steve Ditko "The Amazing Spider-Man" comic book series, the first season of 20 episodes, each containing 2, 13 minute stories, included "The Power of Dr. Octopus/Sub-Zero For Spidey", "Where Crawls the Lizard/Electro the Human Lightning Bolt", "The Menace of Mysterio (2 Parts)", "The Sky is Falling/Captured By J.Jonah Jameson", "Never Step On a Scorpion/Sands of Crime", "Diet of Destruction/The Witching Hour", "The Kilowatt Kaper/The Peril of Parafino", "The Horns of the Rhino (2 Parts)", "The One-Eyed Idol/Fifth Avenue Phantom/", "The Revenge of Dr. Magneto/The Sinister Prime Minister", "The Night of the Villains/Here Comes Trouble", "Spider-Man Meets Dr. Noah Boddy/The Fantastic Fakir", "Return of the Flying Dutchman/Farewell Performance", "The Golden Rhino/Blueprint for Crime", "The Spider and the Fly/The Slippery Dr. Von Schlick", "The Vulture's Prey/The Dark Terrors", "The Terrible Triumph of Dr. Octopus/Magic Malice", "Fountain of Terror/Fiddler on the Loose", "To Catch a Spider/Double Identity" and "Sting of the Scorpion/Trick or Treachery".