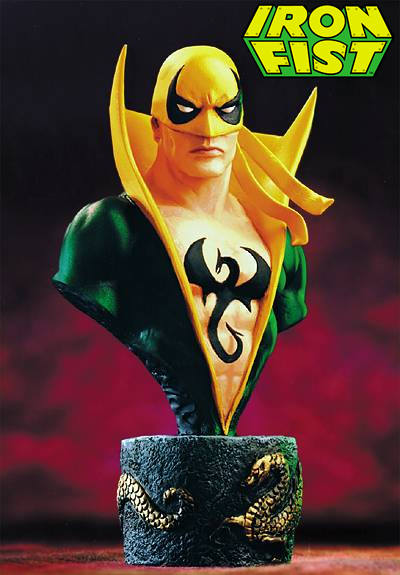 Ray "Darth Maul" Park has confirmed his next film role will be kung-fu master 'Danny Rand' for Artisan Entertainment's "IRON FIST".

"IRON FIST" is one of numerous Marvel comic adaptations being developed by Artisan for the big screen, including 'Captain America', 'Ant-Man', 'Black Panther', 'Power Pack', 'Longshot', 'Deadpool', and 'Morbius the Living Vampire'.

Many comic book fans believe the name 'Daniel Rand' was inspired by author 'Ayn Rand', and that the character's 'chi' powered personal energy is an homage to Rand's philosophy of 'Objectivism'.

"IRON FIST" was introduced by Marvel Comics, May 1974, for 'Marvel Premiere #15'. The character was eventually teamed with 'Luke Cage' (aka 'Power Man') in the series 'Power Man and Iron Fist.'

Premise of the original story begins with 'Wendell Rand', an explorer who discovers a Shangrila-type lost kingdom (K'un Lun) deep in the Himalayas. After saving the leader of K'un Lun from the brutal 'Shou Lao the Undying', Rand is named heir to K'un Lun's throne. Taking a new wife, he has a son named Daniel (Ray Park).

Daniel earns the name 'Iron Fist' after he himself, encounters and kills an older Shou Lao. To symbolize his victory, Daniel tattoos his chest with a winged dragon. Plunging his hands into the dragon's heart, Daniel suddenly acquires the magical 'chi' energy of the Iron Fist, gaining super-human strength and unlimited martial arts powers.